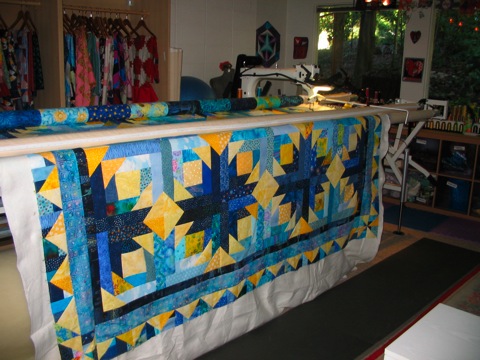 Artistic machine quilting and binding services for patchwork quilt tops, with a myriad of thread and batting choices, as well as quilt-shop quality fabrics from
Sew Batik
(#LAP-1252) and
Kona Bay
. Also I have a fair selection of 108" quilt-shop quality fabrics on the bolt.
( pattern shown on the quilt in progress above is 'Pineapple Blossom' by
Quiltville.com
)
I have a particular fondness for vintage quilts, and enjoy quilting vintage patchwork quilt tops. I also take commissions, and have worked on memory and remembrance quilts, as well as t-shirt quilts and wedding quilts. I've also had the great pleasure to work with several textile artists in completing their quilts.
I look forward to providing quilting that suits your patchwork top, and makes the finished quilt something you can be proud of.
Please click on the link below to contact me by e-mail for further details or any questions you might have, or you can phone me at 206-842-4979, or follow me on
Pinterest
, find me on
Facebook
or
LinkedIn
, look me up on
Flickr
, visit me at
atomic quilting
or browse and buy my quilting designs on
UrbanElementz
.